Common Air Conditioner Problems and Their Solutions
May 26
Common Air Conditioner Problems include a malfunctioning thermostat, an unsteady airflow, and an inefficient condensate pump. These common issues can be solved easily by a professional air conditioning technician. To avoid costly repairs, follow these simple steps. Once you've fixed these problems, you can rest assured that your air conditioner will keep you comfortable and save you money. Listed below are some common air conditioning problems and their solutions.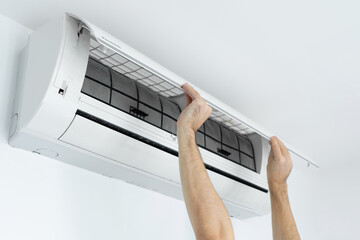 Check your thermostat. If your HVAC system won't turn on, a faulty thermostat is one of the most common AC problems. The thermostat is supposed to respond to temperature adjustments by cooling or heating your home. If your thermostat doesn't respond to temperature changes, the wiring might be blamed. If it does respond to temperature adjustments, the thermostat should make a ticking sound. If it does not, you should contact a professional HVAC technician to inspect the wiring and replace it.
A faulty thermostat can also cause short cycling, which means that the air conditioning unit turns on and off randomly. This results in inefficient cooling and heating. This can have a significant impact on your comfort. Another sign of a faulty thermostat is an ineffective display. It may not display the desired temperature, which is an indication that your thermostat is faulty. In this case, you will need to replace it. You can also try replacing the battery, which will solve the problem.
Leaky ducts are another common AC problem. You should check for tears or holes in the ductwork. If you see air flowing out from the ducts, they're most likely the cause of the problem. If you can't locate the source of the problem, you can call a professional HVAC technician. He or she will be able to determine what the problem is and help you solve it.
Check your condensate pipe. A clogged condensate drain pipe can severely damage your air conditioning system and your home. It's an easy issue to fix, but a clogged drain pipe is a common cause of air conditioner malfunctions. Here are some of the most common AC drain pipe issues. Check for rust or other stains on the drain line. The condensate drain line contains water that corrodes over time from overflowing. Water accumulates in the drain line can damage metal parts and ruin your drywall and flooring. A poorly draining condensate pipe can also cause musty odors from algae.
If your condensate drain line is leaking, your air conditioner may be having a problem. This drainpipe carries water from your air conditioner to an outdoor drain. Generally, gravity moves the water out, but some models come with pumps to quickly move the condensate water. Regardless of the type of drainpipe, it can develop a number of problems and may cause a malfunction in your air conditioner.
If you can't find the source of the leak, you can pour vinegar down the condensate drain pipe. Vinegar is an effective disinfectant and will kill any bacteria, mold, or mildew traces. Once you've done this, pour distilled white vinegar into the pipe to clear the clog and allow it to drain. Rinse the condensate drain pipe and try the air conditioning system again.
Check your electrical panel. During the summer months, air conditioner problems are more common, so it's essential to check your home's electrical panel for possible issues. It's also possible for a power surge to shut down your cooling system. Make sure your thermostat is at least five degrees below its current temperature. If your AC suddenly stops working, you should check your electrical panel for any burned fuses. Otherwise, call a professional to fix the problem.
If the fuse or circuit breaker has blown or tripped, you can check it by flipping a switch on your electrical panel. This could solve the problem if you can locate the fuse or circuit breaker. If this doesn't work, it may be the case that the switch has tripped or is simply not working properly. If your AC doesn't work after flipping a switch, it's best to contact a technician and have him check the panel.
If your air conditioner isn't working, you should check the main power line to your unit. It should have a 240-volt reading on the connectors on the inside. If the voltage readings are lower than this, there's a chance that you need to reset the breaker or a circuit. If the circuit breaker is fine, you can then check your electrical panel for any other electrical issues.
Cool Climate
2840 FM731, Burleson, TX 76028
817-295-6519
AC Repair Burleson TX
Mansfield heating and air
AC repair Cleburne Texas
https://www.facebook.com/CoolClimateAC/
https://www.zeemaps.com/view?group=4289780&x=-100.077150&y=31.319583&z=13
https://www.tuugo.us/Companies/cool-climate/0310006799183
https://www.thumbtack.com/tx/burleson/thermostat-installation/cool-climate/service/441169235345104897
https://www.storeboard.com/coolclimate1
https://www.spoke.com/companies/cool-climate-61c95739fc52020a24072ceb
https://www.smartguy.com/best-air-conditioning-heating-contractors-commercial-burleson-tx-usa
https://www.samedaypros.com/service-provider/cool-climate
https://www.renotalk.com/professionals/coolclimate
https://www.qdexx.com/US/TX/Burleson/Business%20Services/US-TX-Burleson-Business-Services-Cool-Climate-Cool-Climate
https://www.provenexpert.com/cool-climate/
https://www.pinterest.com/coolclimate2021/
https://www.ourbizdirectory.com/burleson-tx-usa/construction/cool-climate
https://www.n49.com/biz/4706822/cool-climate-tx-burleson-2840-fm731/
https://www.myhomepro.org/Air-Conditioning-Contractor/Cool-Climate-Burleson-709/
https://www.locpages.com/listing/cool-climate/
https://www.localbotswana.com/company/15411/Cool_Climate
https://www.igotbiz.com/directory/listingdisplay.aspx?lid=131540
https://www.hrbusinesslive.com/burleson-tx-usa/professional-services/cool-climate
https://www.houzz.com/pro/webuser-819620196
https://www.housetohomepros.com/burleson/heating-and-air-conditioning-1/cool-climate
https://www.hotfrog.com/company/d3f536e81c70e7d4ca2ba99f1b912f80/cool-climate/burleson/heating-and-air
https://www.homify.com/professionals/8881166/cool-climate
https://www.handyguyz.com/professionals/home-services/heating-air-conditioning/cool-climate-165078.html
https://www.getyourpros.com/united-states/burleson/heating-cooling/cool-climate